Love is emotions and behaviors characterized by intimacy, passion, and commitment. It involves care, closeness, protectiveness, attraction, affection, and trust. To celebrate this feeling for someone special, Valentine's Day was marked on calendars as the celebration of love. The day dedicated to love entails a day spent together accompanied by a fancy date with your significant other. During all the planning of the perfect day out with your loved one, sometimes, choosing the perfect outfit for the occasion slips through the cracks till the big day comes around. Luckily for you, we have 5 stellar outfits you can wear on the big day out to a date with your better half. With these outfits, you shall look absolutely stunning, with your significant other unable to keep their eyes off of you. So, impress your date with a spectacular date and a cute outfit.
Leather Jackets
Valentine's Day can be quite stressful and honestly, the planning, the preparations, and everything leading up to the big day can be a huge effort. During that time, if one forgets to pick an outfit for the big day, not to worry because leather jackets are the answer to this problem. Leather Jackets are the epitome of fashion. These jackets have been around for a very long time and are known to be quite fashionable. The perfect way to style an incredible outfit for the big day is obviously by wearing these chic jackets. Leather jackets themselves are found in various designs and styles, which gives everyone a variety to choose from. One of the most common leather jackets are Café Racer jackets. These jackets are the standard leather jackets that everyone loves and wears, and the best way to style them for a date is, wear a black Café Racer leather jacket with a black high-neck shirt, black jeans, and a pair of Stiletto heels underneath for the perfect Valentine's Day look. If you're in search of some other jackets, then Yellowstone Clothing is the perfect option for you.
Skirts
The celebration of love is not always fun and games. The perfect day requires a lot of planning, organizing, and other efforts to make sure that everything goes smoothly and easily with no issues at all. This may cause one to ignore the outfit they need to wear on the big day themselves. In such cases, styling an outfit using a skirt is quite an easy task as skirts are extremely versatile. To properly style an outfit using skirts, you can wear a red skater skirt with a polka-dot blouse on top, with black tights and a pair of over-the-knee boots. In case it is cold out, you can wear a varsity jacket like the Houston Astros Jacket with this outfit to keep yourself perfectly warm and stylish.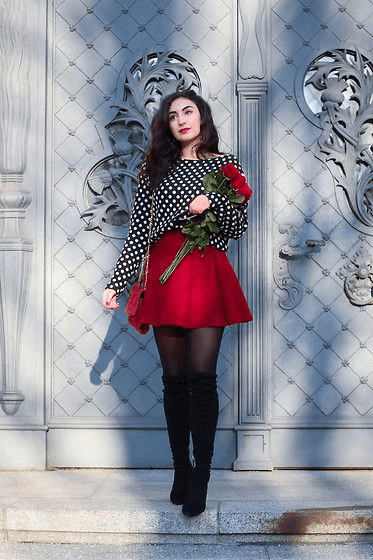 Dresses
Valentine's Day can be filled with fun, but can also entail a fancy dinner at a high-end restaurant. Such places usually have a dress code for one to follow while going there, and it takes a lot of effort to prepare the perfect formal outfit for such a day, especially when one has a lot on their plate from the beginning. In case you fall victim to the stressful period of planning for the big day and do not have an outfit prepared, do not worry as you can wear a dress to your date which is a formal outfit, and the perfect thing to wear at a date for Valentine's Day. To style the perfect outfit, wear a red bell sleeved knee length dress with a pair of white heels. You can top the outfit off with a scarf if the weather gets a bit too harsh for your liking. This outfit is absolutely perfect for the big day and covers all bases for a fancy and upscale date.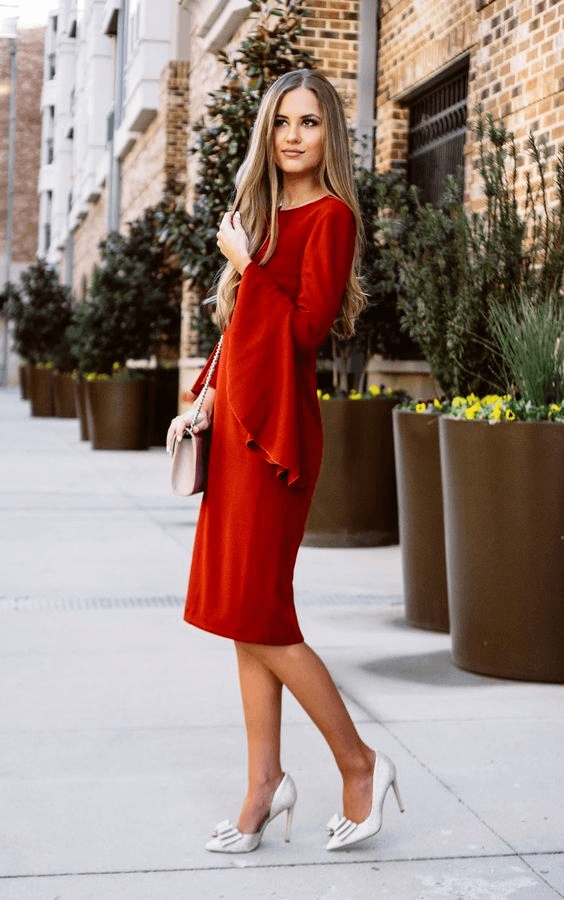 Suits
Speaking of a formal occasion, dresses are not everyone's cup of tea. Not everyone likes wearing dresses, and for those people, we have suits. Suits are the basic definition of formalwear. Classy, elegant, and absolutely beautiful, they are able to enhance your look so greatly, no other outfit may be able to do so. They are also perfect for a date on the big day with your better half to a fancy and high-end place. Wear a suit confidently and no one will be able to match your vibe. Suits come in different styles, but the best one for a date is surely a tuxedo. Wear a gray tuxedo with a matching waist-coat, white shirt, and black heels to look your best. Wear a continental crossover tie with the tuxedo for the absolute best you can get out of the already stunning outfit.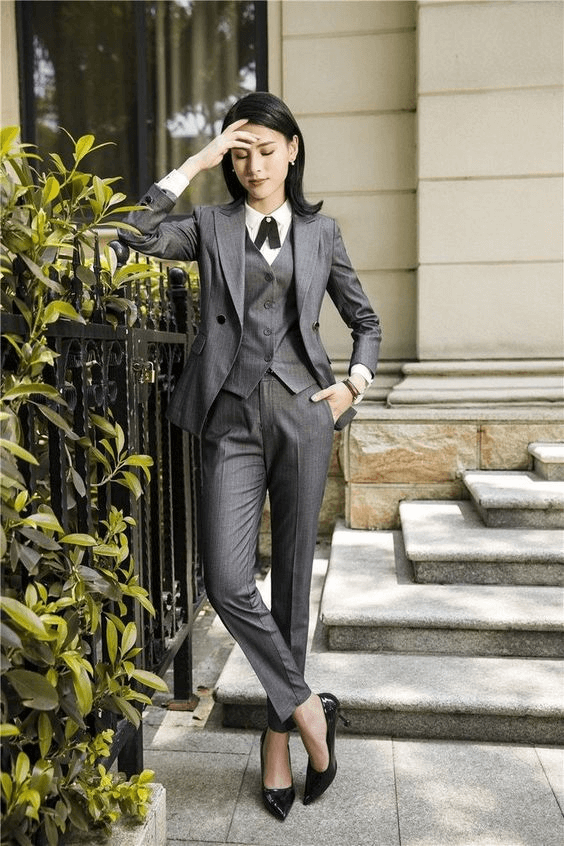 Also Read: From Peace Corps to The Fashion Awards Red Carpet – Model, Pooja-Accamma Somaiah, continues her remarkable journey advocating for South Asian representation and breaking stereotypes in the fashion industry.
Sweaters
Valentine's Day is not only for the committed or married, single and independent people can also enjoy the big day with the one person that loves them more than anyone in the entire world, themselves. Treating yourself to a nice meal outside, or staying home with your friends to watch a movie is completely all right. You can get all dressed up to spend a fancy day of self-care and relaxation all by yourself. All you need alongside all this is a cute outfit that is going to make your day go by even better. You can wear a heart-knit sweater with a tan colored skirt and some over-the-knee boots. This outfit is perfect for those looking to spend a casual day with themselves or their friends on Valentine's Day because who needs a relationship to enjoy the day. As long as Valentine's Day comes around, everyone enjoys it.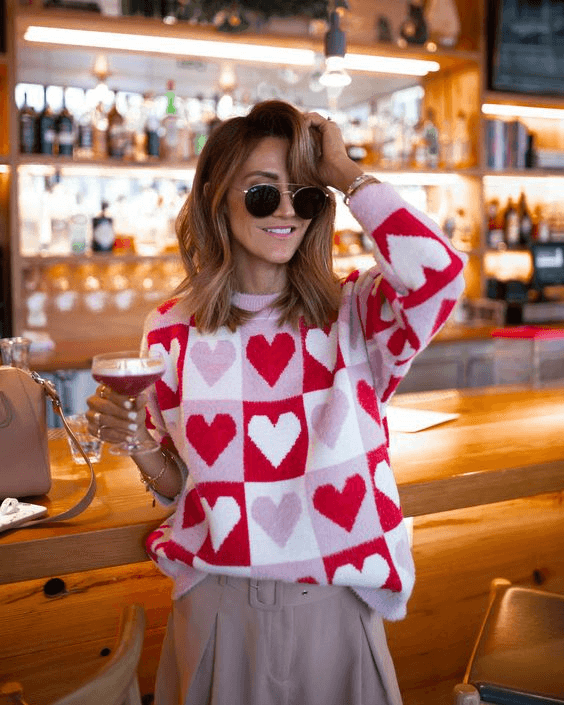 Conclusion
Valentine's Day is a big deal for people. The festival of love is an important time of the year, and also the busiest. During the preparation of the big day, it is common to forget to style an outfit for the date one has prepared so much for. Not to worry, as we have some tremendous ideas that are bound to light up your day and have you care-free throughout the day in terms of style and suavity.